ALTERNATIVE HALF TIME SNACKS FOR THIS YEARS SIX NATIONS
The greatest sporting event in British history takes to our screens this month.
The Six Nations returns, and whether you are a New Zealand, All Blacks fan or a South African, Springbok it's fair to say that rugby is the one sport that brings everyone together regardless of nationality or creed.
But if tickets are sky high and you're not able to make it to this year's final, why not host your own Six Nations final party in the comfort of your own home with a couple of your friends. Check out our twist on some traditional half time snacks that won't leave you feeling lethargic.
1. Baked Avocado Fries
You heard us right, this delicious and wholesome take on fries are a great alternative to crisps.
Ingredients:
2-3 Avocados (dependent on how many people you are hosting for – but this will provide you with enough for a party of 4 people)
1 can of Panko crumbs
2 tbsp. of olive oil
Salt and pepper to taste
Method:
1- Slice your avocado into long strips, and layout on a lined baking tray.
2- Sprinkle over, salt, pepper and olive oil
3- Lightly (or heavily) dust your avocados with Panko crumbs and back for 25 minutes at 180 degrees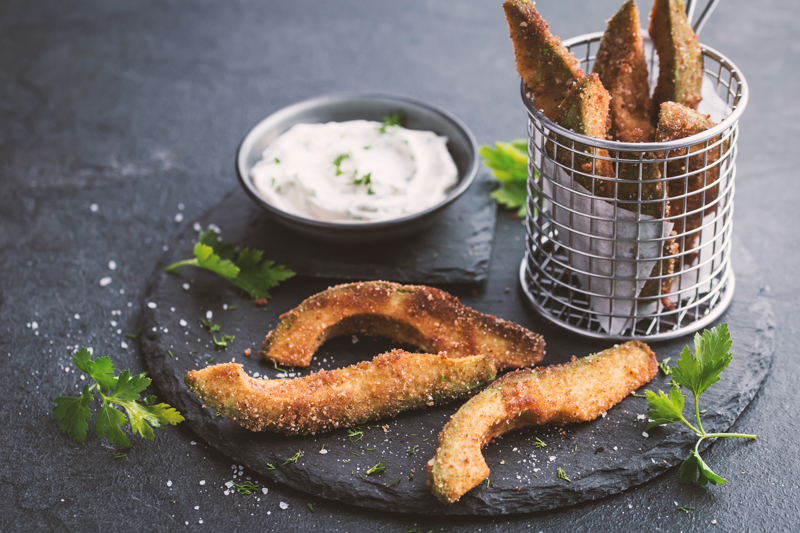 2. Grilled Lemon and Chilli Chicken Wings
Wings are no stranger to the half time snack table. There are of course many different variations and everyone has a favourite, but rather than opting for the deep fried version (pretty much everyone's favourite!) how about trying this healthy, but tasty, grilled version. What it lacks in oil, it makes up for in flavour.
Ingredients:
1 ½ lbs of chicken wings
3 cloves of garlic (peeled and diced)
1 ½ fresh lemons (juiced)
1-2 Birdseye chillies (this all depends on what your heat tolerance is)
Salt and pepper to taste
2 ½ tbsp. olive oil
1 handful of washed and chopped coriander
Method:
1- Place chicken wings in re-sealable food bag add the oil, peeled and diced garlic, juice of the lemons, chillies, salt and pepper as well as a handful of chopped coriander and seal the bag.
2 – Once sealed, give the bag a really good shake, making sure that you coat all pieces of the chicken with this marinade. Then pop the bag in the fridge until you are ready to cook. Cooking times can vary depending on your grill/oven so we'd recommend cooking at 180 degrees for 25 minutes, keeping a close eye on it.
3. Homemade Nachos
Don't panic, we're not about to make more work for you by telling you to make your own dough. This one couldn't be any simpler.
Ingredients:
1-2 packs of whole wheat tortillas wraps
A couple of sprays of fry-light or olive oil
Chilli powder and salt
Method:
1- Using a clean pair of scissors, cut the whole wheat tortilla wraps in to medium sized triangles.
2- Once cut, move the chips to a baking tray and then spray lightly with either fry-light or some olive oil.
3- Add a sprinkle of chilli powder and salt and mix together (you may wish to use gloves).
4- Transfer to the oven for 15 minutes at 200 degrees.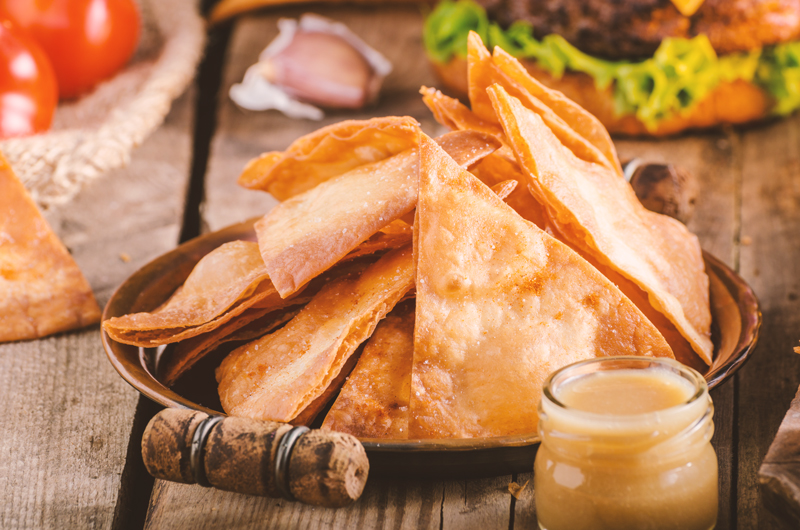 4. Super Tasty Guacamole
This has to be the perfect partner in crime to accompany your home-made nachos.
We love using fresh Hass avocados to make this as they give the dip the right texture.
Ingredients:
2-3 Hass avocados (destoned)
1 small red onion
1 Lime
1 green chilli
1 tsp. cumin powder
2 cloves of garlic (peeled and diced)
Salt to taste
1 handful of washed and chopped coriander
1 tsp. brown sugar (optional)
Method:
1- Destone avocados and cut into chunks and place in a bowl.
2- Squeeze the juice of 1 lime and mix, then add, 1 tsp. of cumin powder, 1 tsp of salt, 1 tsp of brown sugar (to counter the sharpness of the lime juice) and include the peeled and diced garlic cloves and red onion not forgetting the 1 seeded chill (deseeded if you're a wimp!).
3- Once all of these components are in a bowl, mix through with a fork and you may wish to taste to see if it needs an extra lime, sugar or salt.
4- Once you're happy with the flavour combination, add a handful of chopped coriander for a final flourish and chill in the fridge until you're ready to serve with your home-made nachos.
5. Peanut Butter Marshmallow Rice Krispies Things
After every game you always need some dessert, either to comfort you from your team losing or to celebrate their success. What better way to do this than with a light moreish snack that won't leave you feeling too guilty.
Ingredients:
500g Rice Krispies
50g unsalted butter
150g marshmallows
50g peanut butter (we like the chunky kind)
Method:
1- In a heavy based pan, melt 50g butter adding in 150g marshmallows and 50g of peanut butter.
2- Give it stir with a silicon spatula to help the melting process- once melted take the pan off the heat and add in the Rice Krispies.
3- Ensure that you mix this together well so that the marshmallowy-buttery lava covers the Rice Krispies. Once coated, transfer to a lined square tin and put it in the fridge to chill. When you're ready to serve cut into bite sized pieces and you're done!
So there are our 5 alternative half- time snacks for this year's Six Nations final. But they don't need to rolled out at just special events, all of these dishes could be whipped up throughout the week for lunch or dinner, leaving you all fuller for longer without feeling sluggish.